Your journey with Scalloping Homosassa Charters will begin in Old Homosassa, a small piece of old Florida left untouched by commercial development. We're located just 60 miles north of Tampa, tucked back off US Hwy 19, along the Homosassa River. You will feel as if you stepped back in time. Dockside at Riverside Resort of Homosassa you will find our team of experienced scalloping guides waiting to pick you up.
All you need to bring along on your adventure is SUNSCREEN, something to eat and drink (yes we allow beer, wine and liquor in moderation) along with a small cooler to hold your catch if you are going to clean them yourself when we get back to the dock.
Our scalloping charters will include your fishing licenses, masks, fins snorkels and scalloping bounty bag for you to use for the day. However, you are welcome to bring your own personal gear as well.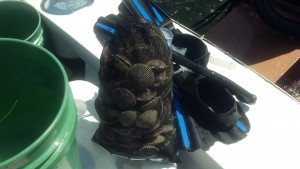 As you make the journey down the beautiful Homosassa River take in the sites. As your leaving port notice the shrimp and crab boats docked to the left. Imagine in your mind these hard working men and women bringing in fresh sea food carrying on a family tradition that generations past also did.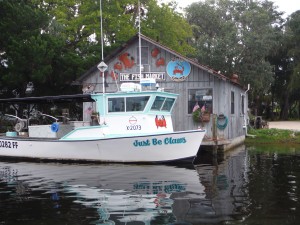 Small cabins can be seen hidden beyond the trees on small islands. You will also see different species of birds. Keep a close eye as you scan the trees and you may see Bald Eagles and Ospreys. At the mouth of the river you may encounter the groups of Dolphins wanting to play in the boat's wake. On a scalloping charter adventure there is something for everyone.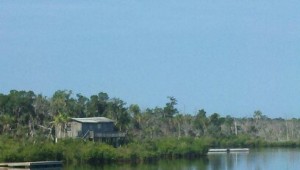 Just a few more minutes as we ride out into the crystal clear waters of the Gulf of Mexico. Your Captain knows exactly where to go to find the are in 3 to 6 feet of water that will be plentiful with Scallops. It is now time to put on your gear and get ready to explore the Gulfs floor to find those delicious treats.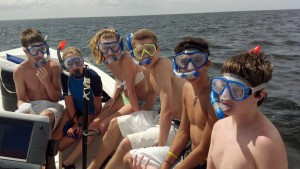 Now that you have your limit of Scallops ( The Legal Limits are: 2 gallons in shell per person up to a maximum of 10 gallons in shell per boat.) You can choose to clean them yourself back at the dock ( Captain will give you a demonstration) or as we always recommend you can have the Local Scallop cleaning crew do the dirty work for you for a small fee.
While the Local Boys are cleaning your catch you can spend a little more time on the water for a small additional fee. You can have your Captain take you to the freshwater head spring of the Homosassa river. At the spring the water remains a consistent 72 degrees all year around. What better way to rinse and cool off while floating and enjoying a cool beverage? You may even want to put the mask and fins back on and see if you may have a chance to swim with the Manatees.
Going on a Homosassa scalloping charter will be one of the summer's most memorable times. It's an adventure that is suitable for most age groups. At Scalloping Homosassa Charters we take pride in what we do. We want every one of our customers to walk away with great memories.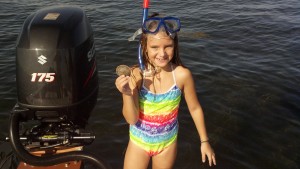 Don't wait book you Homosassa scalloping adventure today!