Scalloping season starts July 1st and runs through September 24th. If you like the idea of treasure hunts then you will love scalloping in Homosassa. All you will need is a mask, snorkel and fins to jump in and experience the adventure of diving for scallops. On your trip, you will pick up scallops from the crystal clear sea-grass flats at a water depth of 3 to 6 feet. The limit of scallops is 2 gallons per person per day and not more than 10 gallons per boat per day. There are approximately 250 to 300 scallops in 10 gallons. That's a lot of meat!
Capt. Carey takes command of his Proline. Also powered by a Yahmaha four stroke engine Captain Carey will guide you both Scalloping and Fishing in Homosassa.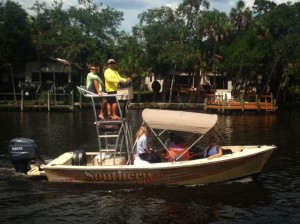 Capt. Hunter has reached his detination in his Skiff and is ready to let these girls jump in the water to fulfill their scalloping bounty.